Using old-world hot-working techniques and modern proprietary technology, Firelight Glass creates unique sculptural forms, many of which carry patents. Their designs are "seamless", resulting in an unparalleled purity of form.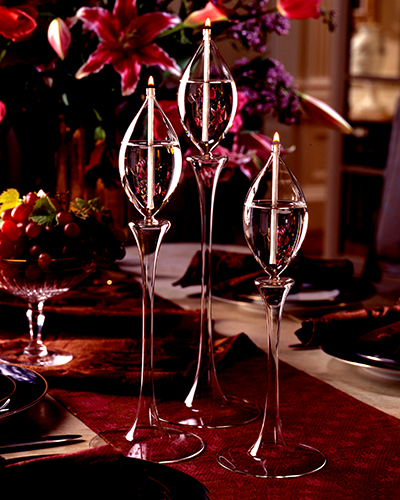 Waterlily Stems
A sculptural tribute to gentler times, our flagship design creates a gracious welcome in your home's foyer, or serves as a grand centerpiece or soft lighting to set the mood.
— Candles come in four sizes —
10″ H   $39.50
12″ H   $44.50
14″ H   $48.50
16″ H   $53.50
Aria Chimney Lamps
One of our most popular designs, Aria is the essence of romantic candlelighting. Ideal for an alfresco table-for-two, its statuesque chimney protects the flame from the evening breeze.
— Lamps come in four sizes —
8″ H   $49.95
9″ H   $57.95
12″ H   $67.95
15″ H   $89.95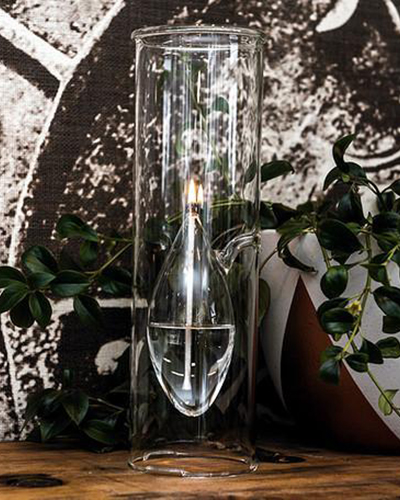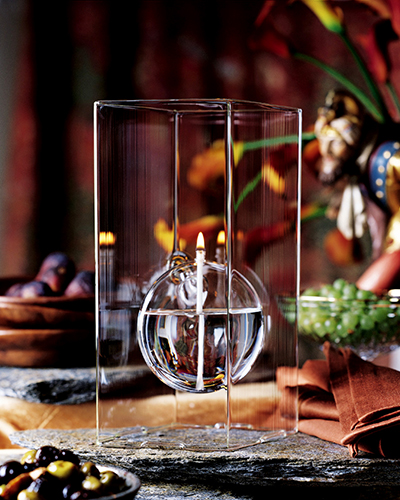 Floating Moon Oil Candles
Full moon rising over all your special settings. Sheathed in wide walls of pure glass, the flame is sheltered from the breeze when used for garden luminaria.
— Choose from three sizes —
7″ H   $68.50
9″ H   $79.50
11″ H   $99.50
Classic Tapers
The dining table classic, our taper candles are handworked in crystalline glass to leave no wax tracks on fine linens! All designs are crafted with thicker walls than those fashioned from simple tubing.
— Choose from three sizes —
6″ H   $15.95
8″ H   $16.95
10″ H   $17.95
12″ H  $19.95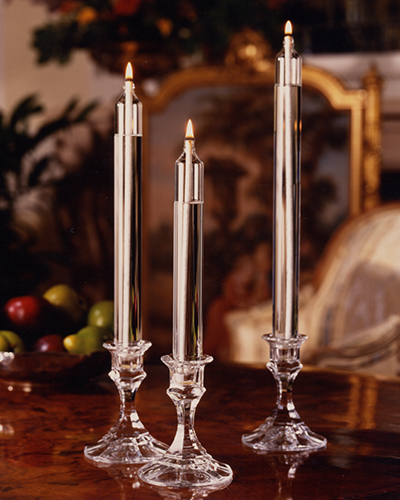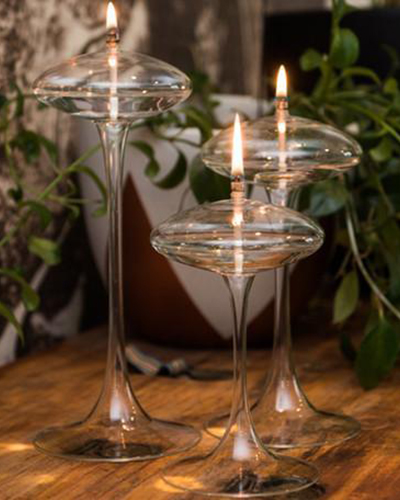 Omni Stem Oil Candles
As seen on the set of Star Trek! Flames hovering in space. Group on a tabletop, desktop, or living room coffee table, any place for the eye to daydream.
— Candles come in four sizes —
7″ H   $44.95
9″ H   $47.95
11″ H   $49.95
Omni
Shallow pools of crystalline light tuck in anywhere — bedside or bath. Smaller sizes are ideal for creating your own tabletop oasis. Just fill a clear bowl with water and set them afloat!
— Choose from four sizes —
3″   $18.50
4″   $21
5″   $26.50
6.5″   $44.95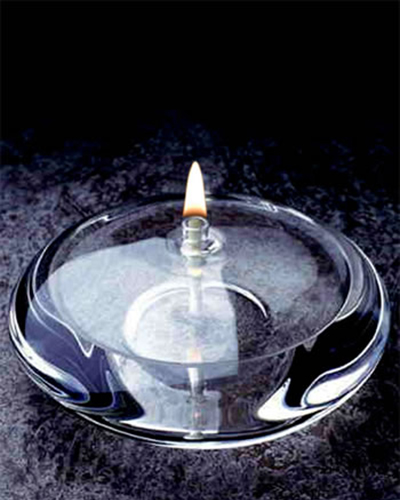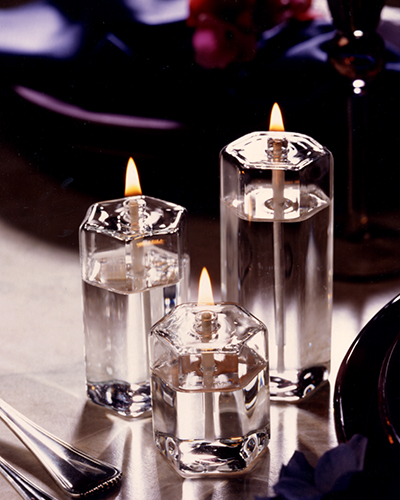 Votives
Slender hexagons of light, our Votives are an imaginative way to spotlight each setting. At the celebration's end, they make gracious table favors for each guest to take home.
— Choose from three sizes —
2″   $12
3″   $13
4″   $14