These trademarked oil lamps and candles are hand-blown from borosilicate glass, adding durability to their classic designs. Skilled glassblowers craft each object using Wolfard's exclusive "in-flame" technique. No two lamps are exactly alike, due to variations in this art form.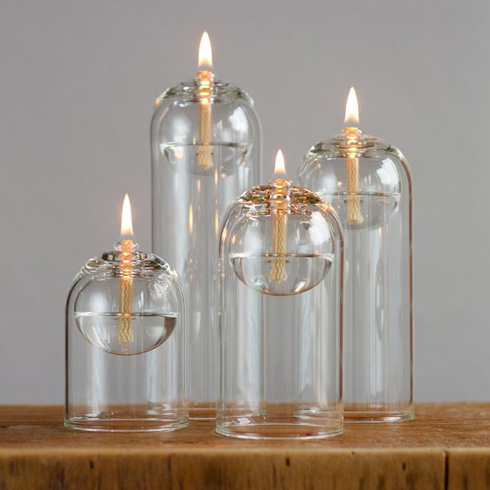 Oil Candles
A striking variation of the classic Wolfard Oil Lamp, our oil candles add a flicker of magic to any room or occasion. The efficient wick design allows the flame to burn for hours without refueling.
— Candles come in four sizes —
3″ Dia. x 4″ H   $43
3″ Dia. x 5.5″ H   $44
3″ Dia. x 7″ H   $49
3″ Dia. x 8.5″ H   $52
Oil Lamps
Wolfard Lamps bring style and elegance to any room. All are beautifully hand-crafted and designed to be treasured for generations.
— Lamps come in four sizes —
3″ Dia. x 6″ H   $64
3.75″ Dia. x 9″ H   $74
4.5″ Dia. x 12″ H   $84
5.25″ Dia. x 15″ H   $129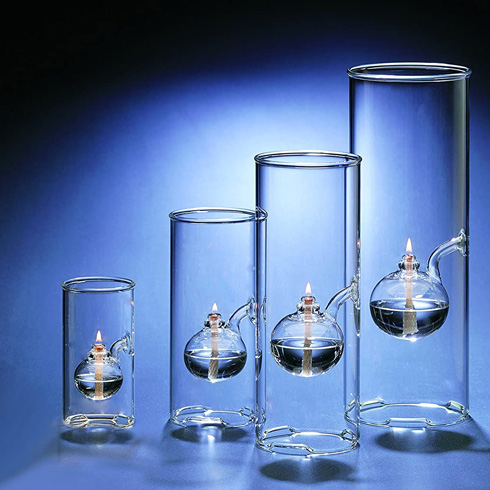 Flower Bulb
Flower Bulbs are the perfect companion to the traditional oil lamps and candles. A simple, crystal-clear glass bulb, just right to hold a sprig of lavender, a single rose bud, or the first daffodil of spring. You can also put a wickholder unit in the mouth of the bulb and use it as the simplest of oil candles.
— Bulbs come in three sizes —
2.4″ Dia. x  2.5″   $21
2.75″ Dia. x 3″ H   $24
3.25″ Dia. x 3.4″ H   $26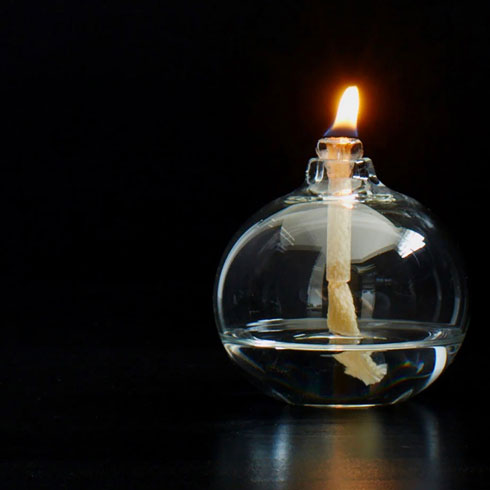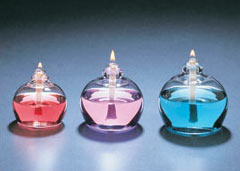 Accessories & Lamp Oil
Wolfard's Fillerspouts are designed specifically for filling your oil lamp. They screw onto the top of most one-quart bottles and the flexible tip slips into the reservoir opening of your oil lamp or candle.
Funnels have flexible tubing that slips into the opening of the oil reservoir and makes filling easier.
Glass wickholders fit into the top of the oil reservoir and hold the wick in place. They come in one size which fits all sizes of Wolfard oil lamps.
Cotton wick can be purchased by the inch.
— Accessories —
Filler Spout   $4.50
Wickholder   $7.50
Cotton Wick   .50¢ an inch
Funnel   $7.50
— Lamp Oil —
Quart   $13.95
Gallon   $37.95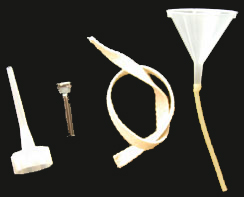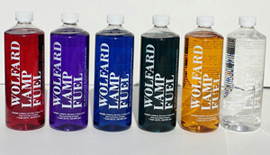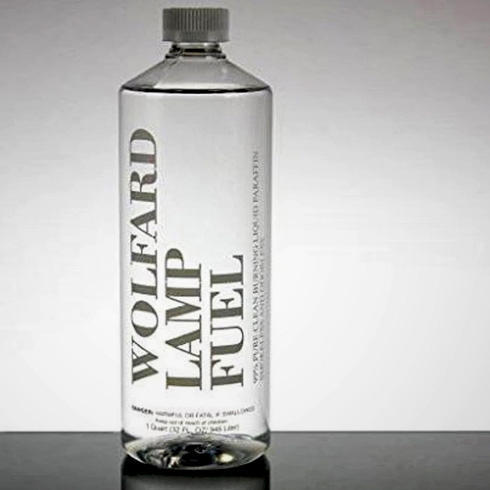 Lamp Oil Recipes
Amber: Gold & Violet to desired shade
Aqua: 2/3 Clear & 1/3 Teal
Burgundy: Equal parts of Violet & Rose
Lavender: Clear & Violet to desired shade
Lime: 3/4 Gold & 1/4 Teal
Navy: Blue & Violet to desired shade
Orchid: 1/2 Clear & 1/4 Rose & 1/4 Violet
Pink: Clear & Rose to desired shade
Pumpkin: Gold & Rose to desired shade
NOTE: For pastels start with clear. Save empty containers to conduct mixing experiments.